The Best Heavy Duty Tire Brush Ever"



Curved for cleaning with ease this brush gets the job done in half the time and does the job right the first time. Manufactured form Premium PVC with Nylon Bristles that are chemical resistant and extra Heavy-Duty.



These heavy-duty bristles on Curved to the contour of your tire ideal for cleaning and scrubbing. Just spray the wheel with some Premium Blue Wheel and Rim Cleaner and watch the grime, dirt and but up dressing come right off leaving behind a beautiful clean tire.



the best brush at the right price:
Curved for easy cleaning in just the right areas
Induro-BRUSH™- Long life premium construction
Right Grip Comfortable Rubber Grip handle for non-slip, easy and comfortable gripping
Stiff durable, long lasting bristle tips
Hanging hole for easy storage
Soft siding to avoid scratching the car
Ideal when used with Chemical Guys Premium Blue Wheel and Rim Cleaner.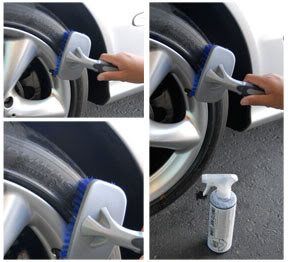 Chemical Guys stands for quality, and brushes and accessories are no acceptation, Quality Counts! Chemical Guys knows that when our customers ask for brushes we'll need more then a few, so we manufactured 12,000 of these quality brushes to start. Heavy Duty and built to last these curved brushes will last forever.

Curved Tire Brush-
for lightning fast tire cleaning


Professional Grade


High-end re-Enforced PVC Brush and double coated heavy duty brush sponge on sides for superior cleaning


Uniquely engineered to form to the contour of any tire for extra easy cleaning!


Faster and easier to use than any regular flat bristled brush


the stiffest bristles Induro-BRUSH™ offer


For tackling tough road grime, tar and baked on dirt on your tires and removing scuff marks on sidewalls.


Chemical Guys Unique PVC -Nylon Bristles are extra Heavy duty.


These heavy-duty bristles on our "Tire-Formed" tire brush are ideal for scrubbing and cleaning.


When matched with a high performance tire cleaner, even the toughest of road grime and ugly marks on white walls and premium tires comes right off.


Induro-BRUSH™ premium soft, non-slip handle is comfortable to hold perfectly.


Provides the leverage needed to apply the right amount of pressure during cleaning.


All problems with cleaning tires and inside wheel well surface of tire are truly addressed here


Large 7 x 4 inch brush head size is the perfect fit low profile tires, regular tires, and even off road tires.


Easy, comfortable, non-slip grip engineered for minimal effort with maximum results


Light-weight, washable, ingenious and professionally designed high quality brush.


PVC-Nylon Bristles are engineered and designed to last forever.